The artist competed with the piece "From Garbage to Luxury" and ended up victorious.
In a Facebook publication, Angoalissar reveals that the artist "expresses in his work his passion for the city of Luanda, portraying one of the city's postcards that is the Marginal of Luanda, using materials such as the remains of wooden pallets, mobile phone remains, shards of car windows, among others".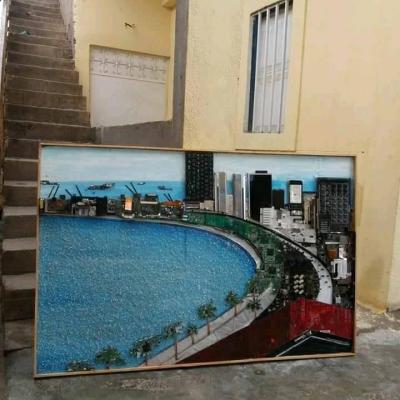 Quoted by Sapo, the artist reveals that he decided to call the work 'From Trash to Luxury', "because the used material was supposed to be in the trash". "We know that electronic components are polluting when they're badly discarded. I tried to unite this, taking this material that would no longer be useful and I made art out of it", explained Eduardo Vueza.
The jury was composed by members of Angoalissar's organizing committee and also counted on the participation of António Gonga, a renowned plastic artist.
The process of choosing the winner went through three phases: the first was the "reception of more than 50 applications, the second was the selection of the 10 finalists and the third was the selection of the winning artist".
The project also includes an exhibition of the 10 finalists. The exhibition can be seen virtually, just click here.